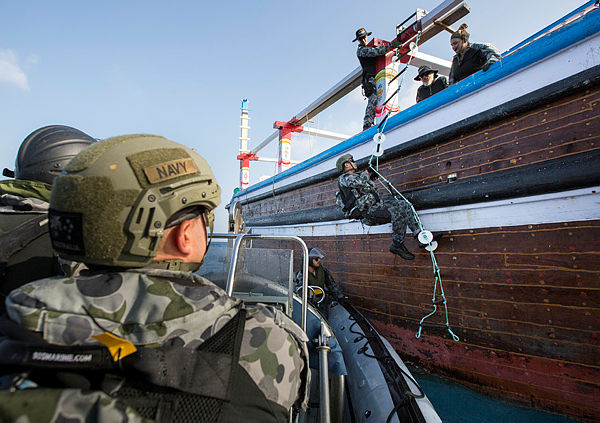 HMAS Warramunga, as part of Combined Maritime Forces' (CMF) CTF 150, was conducting a patrol in the international waters of the Gulf of Aden, on 3 March when she detected a suspicious vessel. The Australian ship quickly closed in on the suspicious dhow to conduct further investigations that led to the boarding. HMAS Warramunga was authorised to conduct a non-destructive search for illegal narcotics, weapons and charcoal. During that search, the boarding team located 4 tonnes of hashish, valued at over $155 million USD. After completing a thorough search, the drugs were catalogued and transferred to HMAS Warramunga for safe disposal at sea.
The Commanding Officer of HMAS Warramunga, Commander Dugald Clelland, RAN, said he's been continually impressed with the crew's determination and professionalism and stated: "This has been a high tempo deployment for HMAS Warramunga but we have been fortunate in seeing significant quantities of narcotics not reach their final destination as a result of the efforts of the crew and the CTF 150 team."
On 4 March, HMAS Warramunga continued her relentless pursuit of illicit smuggling, detecting a second suspicious dhow in the Arabian Sea. Intercepting and investigating the second dhow, boarding teams from HMAS Warramunga discovered an additional 3.9 tonnes of hashish, valued at over $151 million USD.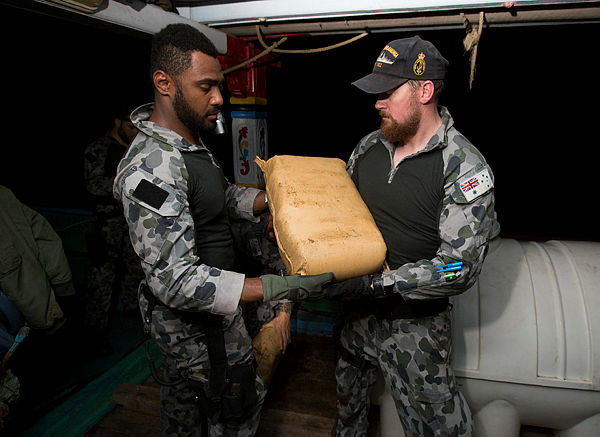 Commander of CTF 150, Commodore Mal Wise, Royal Australian Navy, spoke of the success of the most recent interdictions. "CTF 150 remains focused on our task to suppress the funding of terrorist activities. The great results that HMAS Warramunga continues to achieve is a testament to her training, her drive to succeed in the mission and the collaborative work between her team, the CTF 150 staff and other partners ashore. I am extremely proud of this entire effort and the impact that the team continues to have on terrorism funding."
Since December 2017, multinational assets in support of CMF have seized 27.9 tonnes of hashish and 1.5 tonnes of heroin, valued at over $1.3 billion USD. CTF 150 is currently under Australian leadership, supported by a combined Australian and Canadian staff.
Media note: *This calculation is based on the Australian Criminal Intelligence Commission Illicit Drug Data Report 2015–16 figures for Cannabis Resin (Hashish) at $50 AUD /$39 USD per gram (p215) and Heroin at $300,000 AUD / $235,000 USD per kilogram (p 216).
Source: combinedmaritimeforces.com