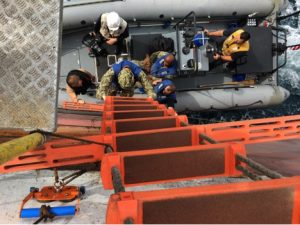 U.S. Naval Forces Central Command (NAVCENT), representatives from Naval Cooperation and Guidance for Shipping (NCAGS) and the commercial shipping industry completed exercise Lucky Mariner, April 11.

Lucky Mariner is an annual exercise led by NAVCENT's Task Force 55 (TF 55), focusing on NCAGS skill sets employed against threats to shipping, deconflicting military operations with commercial shipping and maintaining the free flow of commerce in the U.S. 5th Fleet area of operations.

"Military and commercial partnerships are key to preserving the free flow of commerce in this critically important region with three major choke points," said Cmdr. Daniel Gavigan, Commanding Officer of NR NCAGS Chicago supporting TF 55. "Lucky Mariner allows us to practice naval cooperation and guidance for shipping skill sets, which are essential to maritime security and the global economy."

The exercise practiced the coordination and mobilization of NCAGS, a component of U.S. Fleet Forces, and the commercial shipping industry, providing Fleet Commanders assistance in risk management by providing situational awareness and real-time interpretation of the merchant shipping landscape. NCAGS also assists in the safe passage of merchant vessels during times of crisis or contingency.

The twenty-one day exercise included the embarkation of NCAGS shipping coordination teams on to commercial vessels Safmarine Kuramo. These teams consist of NCAGS Reservists, many who are strategic sealift officers with active USCG Merchant Mariner Licenses, coordinated these military/merchant operations, resulting in a successful high-value unit (HVU) escort of a merchant vessel.

Capt. Nikolaus Keydel, master of M/V Safmarine Kuramo, explained that voyages through the northern Persian Gulf have been peaceful in recent years, attributing that peace to the continued presence of U.S. Navy forces in region. He also expressed that the knowledge exchanged during interactions such as Lucky Mariner is invaluable, and there is peace of mind knowing that the U.S. Navy is ready to act in the event of a crisis.

NAVCENT is responsible for approximately 2.5 million square miles of area including the Arabian Gulf, Gulf of Oman, North Arabian Sea, Gulf of Aden, and the Red Sea. NAVCENT's mission is to conduct maritime security operations, theater security cooperation efforts, and strengthen partner nations' maritime capabilities in order to promote security and stability in the U.S. 5th Fleet AOR.
Source: www.dvidshub.net