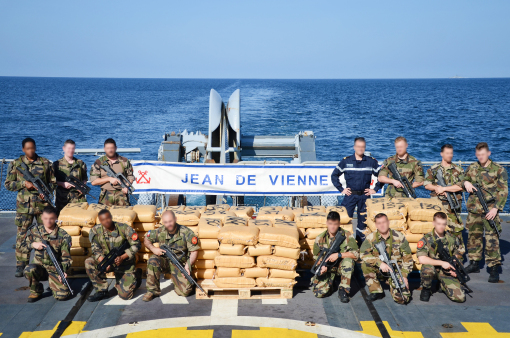 The Jean de Vienne's Lynx helicopter, flying with HMAS Warramunga's Seahawk helicopter was conducting routine surveillance in the international waters of the Arabian Sea as part of Combined Maritime Forces (CMF). Detecting a vessel of interest, the Jean de Vienne tracked the dhow to investigate further and determined the vessel was without nationality. Boarding teams from Jean de Vienne then conducted a non-destructive search of the vessel, locating 4 tonnes of hashish, valued at over $130 Million USD. After a thorough search, the illegal narcotics were catalogued and transferred to Jean de Vienne for safe destruction at sea.
Commander of CTF 150, Commodore Mal Wise, Royal Australian Navy, said the remarkable success of CTF 150 is due to the team work between partner nations within the task force and stated that: "In a complex multinational coalition providing security and stability in this vital area of the world, working together effectively is essential. The outstanding outcome that this seizure by the French Navy represents the commitment demonstrated by the men and woman at sea. Coming together from multiple nations, in close partnership with CMF, this seizure by Jean de Vienne is evidence of what can be achieved when likeminded nations work together."
On March 3 and 4, 2018, HMAS Warramunga conducted 2 boardings in the Arabian Sea, locating over 7 tonnes of hashish, valued at over $300 Million USD. Since December 2017, multinational assets in support of CTF150 have seized over 31 tonnes of hashish and 1.5 tonnes of heroin, valued in excess of $1.4 Billion USD. This is the ninth confiscation of drugs by CTF 150, currently under Australian leadership, with a combined Australian and Canadian staff and supported by assets from partner nations like Australia, France, New Zealand, Pakistan, the United Kingdom, and the United States.
Source: combinedmaritimeforces.com